Computer-Generated Spray Movies
---
The map to the right shows all herbicide spraying in South Vietnam. Click anywhere in Vietnam to see a month-by-month, computer-generated movie showing military herbicide spraying in for that region between 1961 and 1971. All movies were generated using the data and software described on this website. For details on specific spray missions at detailed sites, go to Exposure Information for Specific Coordinates.

Click

here

to see a movie showing herbicide spraying over all of Vietnam.
Related Pages
Records from the HERBS File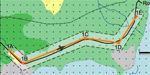 View records from the Department of Defense Herbicide Reporting System (HERBS) database.
Operation Ranch Hand Projects and Targets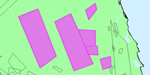 See Operation Ranch Hand spray targets in the region surrounding these coordinates.